Project overview
Having successfully worked on a number of projects with Ennismore, we were invited on another journey to bonnie Scotland to supply a selection of classical rugs and help convert this 19th century home into a series of elegant meeting rooms. The main purpose of this renovation was to use historic design elements that would inspire and encourage conversation during these exquisite gatherings.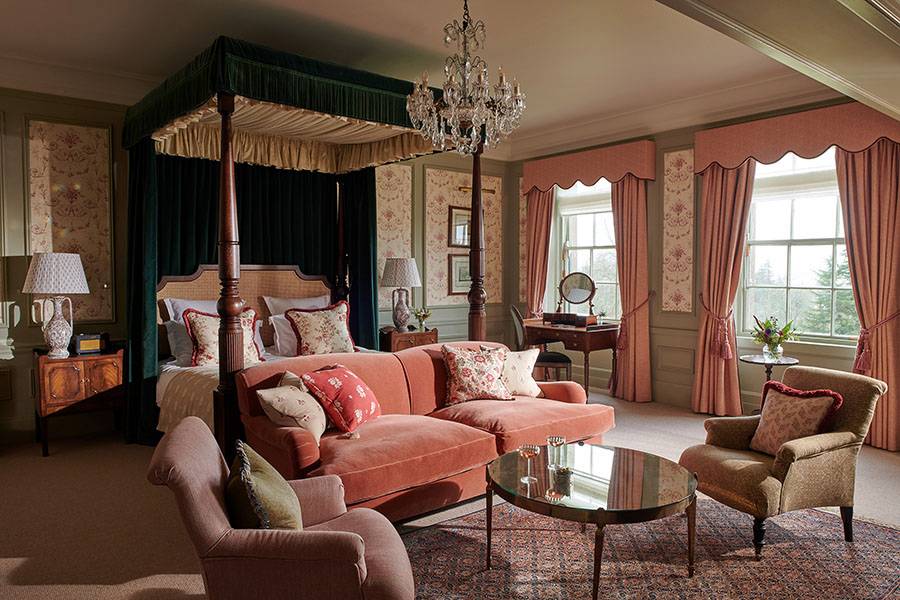 For more than a century, Gleneagles has been a byword for quiet luxury, a place for gatherings and historic meetings and a hub of festive celebrations and lively dialogue. In this latest development of the hotel's expansion plan, Ochil House honours the visionaries who shaped Scottish history over the centuries.
Inspired by the brilliant minds who attended Ochil House as part of the private members club, this renovation would include interesting design elements honouring Great Scottish inventions such as the television, the telephone and of course the gin and tonic! (the most important of these is still up for debate).
With the designers busy sourcing British and French antiques and fine fabrics, London House set to find a selection of exquisite traditional rugs to further enhance their design concept, adding opulence to a number of communal spaces and guest rooms.
Afghan Feraghan rugs are known for their intricate all-over floral patterns inspired by 19th-century Persian rug designs. These more elegant design elements made them the perfect choice for this project as many of the rooms were fairly neutral and benefited from the introduction of a strong pattern and warm colours.
From a more practical perspective, these Feraghan rugs are hand knotted using durable Afghan wool and woven using a traditional Persian knot which means they can be placed in high traffic areas such as dining rooms and will last forever.
A less flamboyant design was chosen for the Royal Suite as this interior already featured a number of elements with a strong pattern. This Mamluk design is complexed but executed in muted colours with a star-shaped central medallion surrounded by smaller geometric floral head patterns. Again like the Feraghan rugs, the Mamluk rug is woven from fine, soft wool with a tight knot which allows such an intricate design to be woven so beautifully.
View Malmuk Rugs
If you have an interior design project on the horizon and require a rug supplier with comprehensive experience in commercial renovations, our team are ready to help bring your ideas to life. We provide in situ viewings so all possibilities can be assessed and judged in the space. If you have something particularly niche in mind, we also provide a bespoke rug making service from fine hand knotted rugs, through hand tufting to natural fibre rugs of all types.
For more information please get in touch below or give us a call on 0208 809 2220 or 01937 845123.