Commercial Rug Installations
When it comes to the very final stages of completing a striking interior, one of the first fundamental design elements to be installed will be your lovely handmade rug. Although handmade rugs are soft and plush to the touch, they're also surprisingly heavy and cumbersome, so it's easy to fall into the trap of thinking these soft furnishings can be placed in situ, and that's that!
Having worked on hundreds of commercial interior design projects over the years, it's safe to say that London House has had to get somewhat "creative" at times to ensure that rugs are installed professionally and safely, paying attention to every detail.
What Size Rug Can Be Installed?
Size matters…especially when it comes to rugs! The size of your space will determine your rug measurements, and the dimensions of the rug will influence which rug designs are available to you.
The problem is that limiting design options can really thwart creativity, so in many cases, London House can make alterations to the size of a rug so it fits perfectly in situ. This depends on the design, but the team will advise on the best route forward if you have your heart set on a piece that's just a touch too big.
On the other end of the spectrum, some projects have huge rooms, and such spaces require large or oversized rugs. In most cases, larger pieces tend to be of a more traditional style; however, London House also has a collection of large contemporary rugs and the ability to turn any creative design into a bespoke piece in just a few weeks!
Many design companies lean towards a popular solution: having two vintage overdyed rugs joined together to make one large piece. As these rugs have minimal pattern, The alteration team can take two vintage overdyed rugs of a similar design, sew them together seamlessly and dye them consistently in the required colour.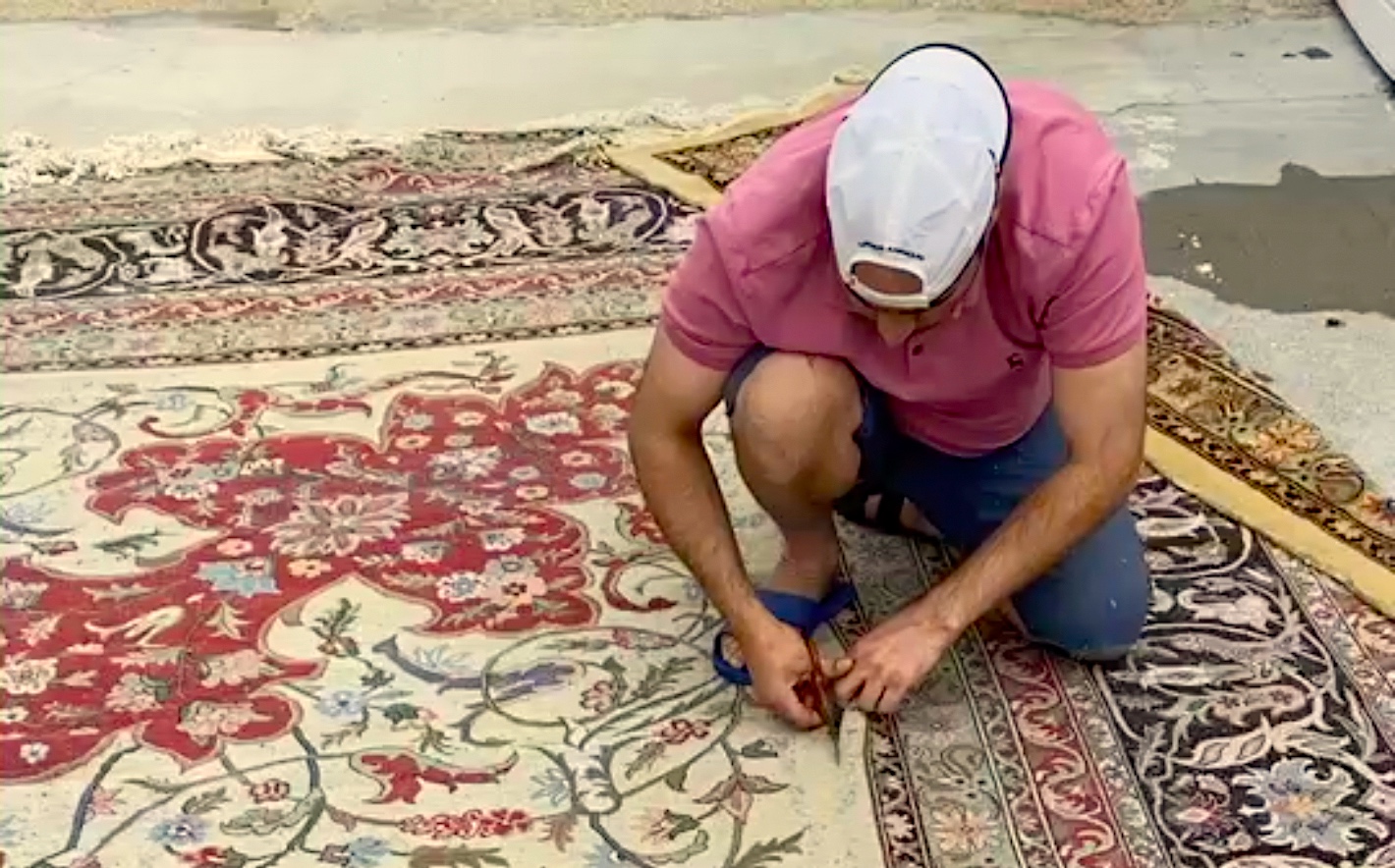 Bespoke Commercial Rugs
If you're looking for something a little different, London House has a team of specialists who can create a completely bespoke handmade rug to complement your commercial interior perfectly. This service allows you to create a rug from various materials, such as wool, bamboo silk or even jute, with any design you see fit. Your bespoke rug can be made to almost any size, and the team provide CADs and samples along the way to ensure the final piece exceeds your expectations.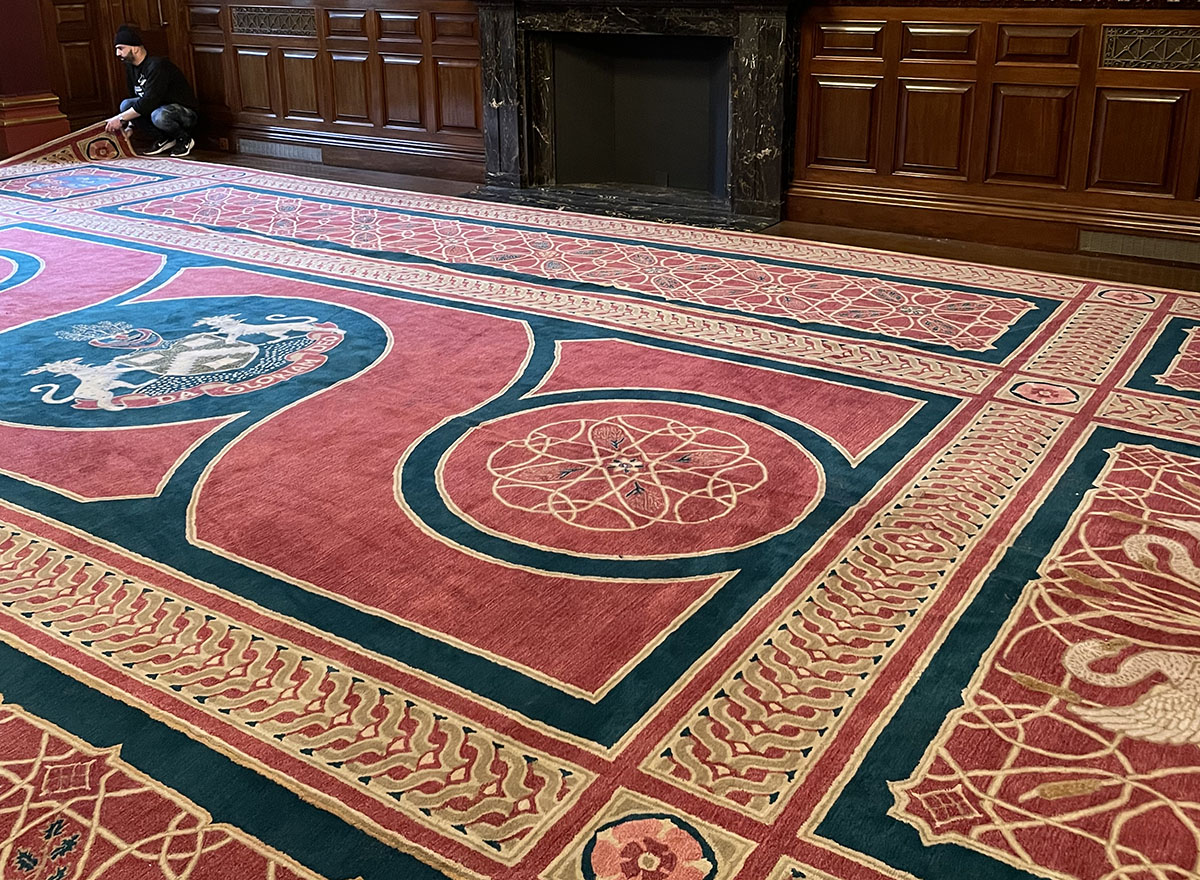 On-site Alterations
Often with commercial interior design, features such as pillars can influence rug placement, which can sometimes harm the overall design. This is commonplace, particularly with office fit-outs, as many of these spaces have electrical sockets on the floor. In this scenario, London House can arrange for the alteration team to arrive on the same day your rug is delivered and simply make adjustments on-site. This can include cutting holes, re-sizing and installing rugs in awkward spaces such as window displays. When carrying out this type of work, the team will re-bind or whip the rug edges to keep the rug's integrity and leave a clean finish.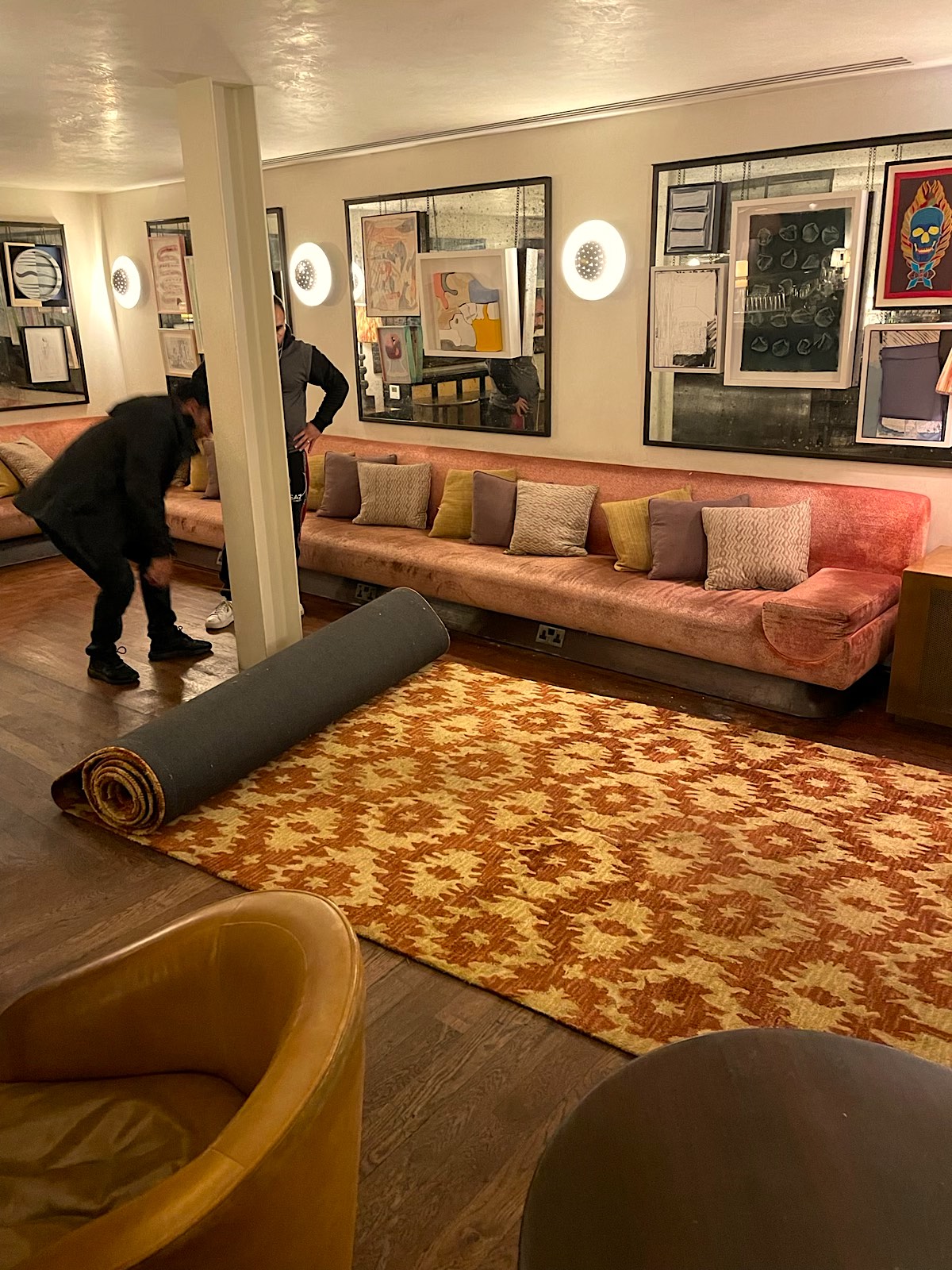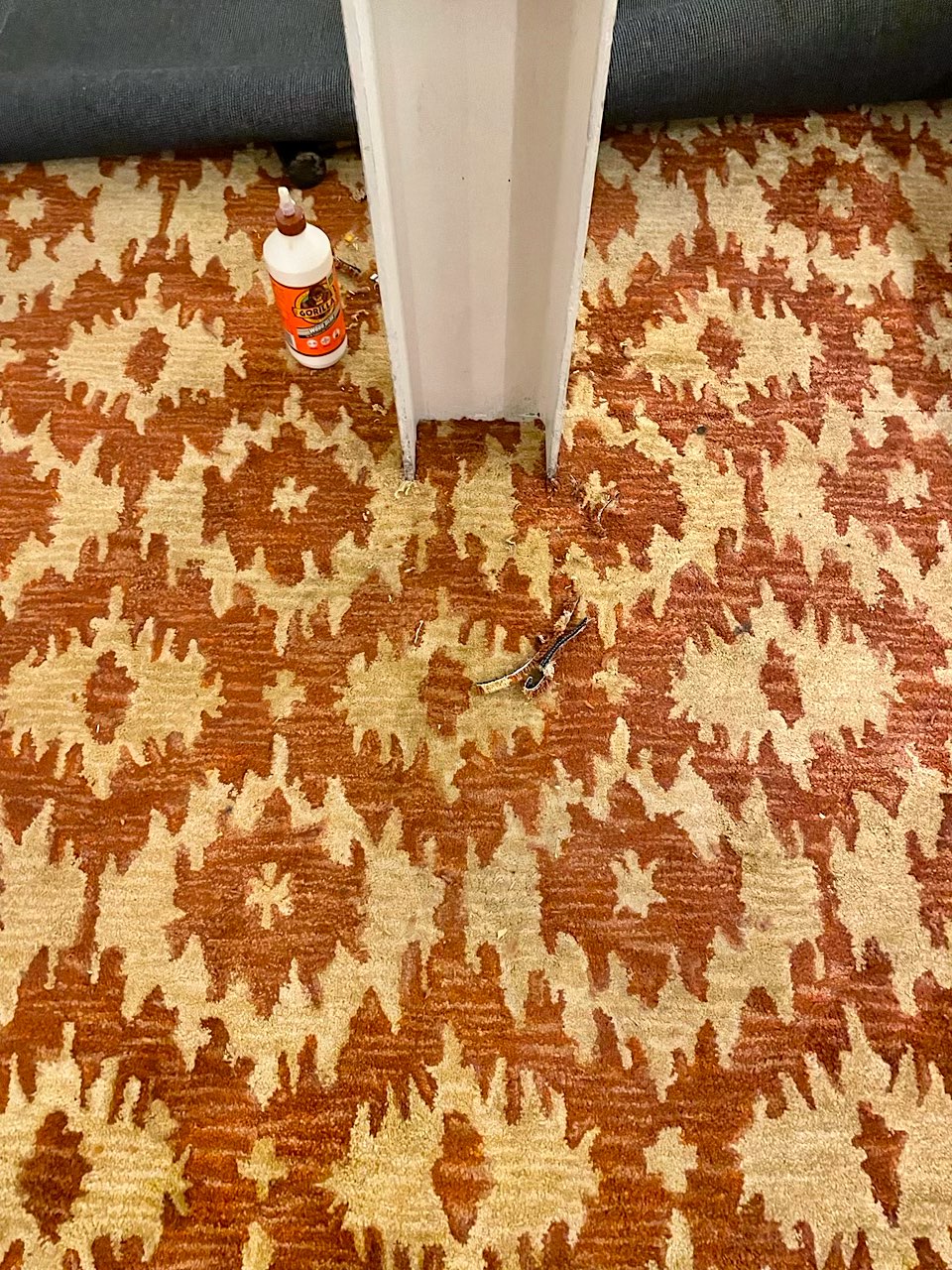 Trip Hazards
Although our main aim is to provide beautifully handmade rugs of the highest quality, we're also extremely mindful of the health and safety of those enjoying these newly renovated spaces, especially when a high amount of footfall is expected.
There are a number of installation techniques which can be implemented to prevent trip hazards or slippage, and this generally depends on the pile height of your selected rugs. Traditional rugs such as Agras can have a pile height of as much as 30mm, so you may want to consider placing these thicker pieces into a floor recess. London House can liaise with joiners so that your rugs fit snug into any floor recesses, with minor alterations being done on-site if required.
Rugs with thinner or no pile, such as Kilim rugs, can be prone to sliding, especially on hard floors. The simplest solution to this is to have underlay placed on the reverse of the rug, which is highly adhesive and holds the rug in place; however, in some cases, the rug will need a more permanent fixture, such as studding.
Delivering Rugs To Your Commercial Project
When delivering your rugs, London House will arrive with a van full of your selected pieces and a two-person team, which is suitable for most installations. The exception is the delivery of large bespoke rugs as these pieces can weigh well over 100 kg and will likely require a large team to manoeuvre, especially if the rug is being installed any higher than ground level.
If the delivery location does have any accessibility issues, just let the team know, and they'll arrange for a larger group of installers to be sent out along with any additional delivery equipment.
Are You Looking For Rugs For Your Next Commercial Design Project?
If you require handmade rugs for your next commercial interior design or architectural project, London House can help you through the process. From choosing the perfect pieces to creating entirely bespoke rugs, the team will do everything possible to supply you with a stunning collection while ensuring a smooth and timely installation. Contact us here to discuss your plans.