Project overview
Born out of Queens, New York, this high-end streetwear brand has just opened its London flagship store with two stories of retro elegance, all crafted under the creative eye of interior designers Sarita Posada and West Architecture.
As you step into the new Aimé Leon Dore shop floor, you're hit by a cool sophistication with a pair of 1985 "Chicago" Air Jordans hanging on the wall, setting the tone for the rest of this sumptuous boutique store.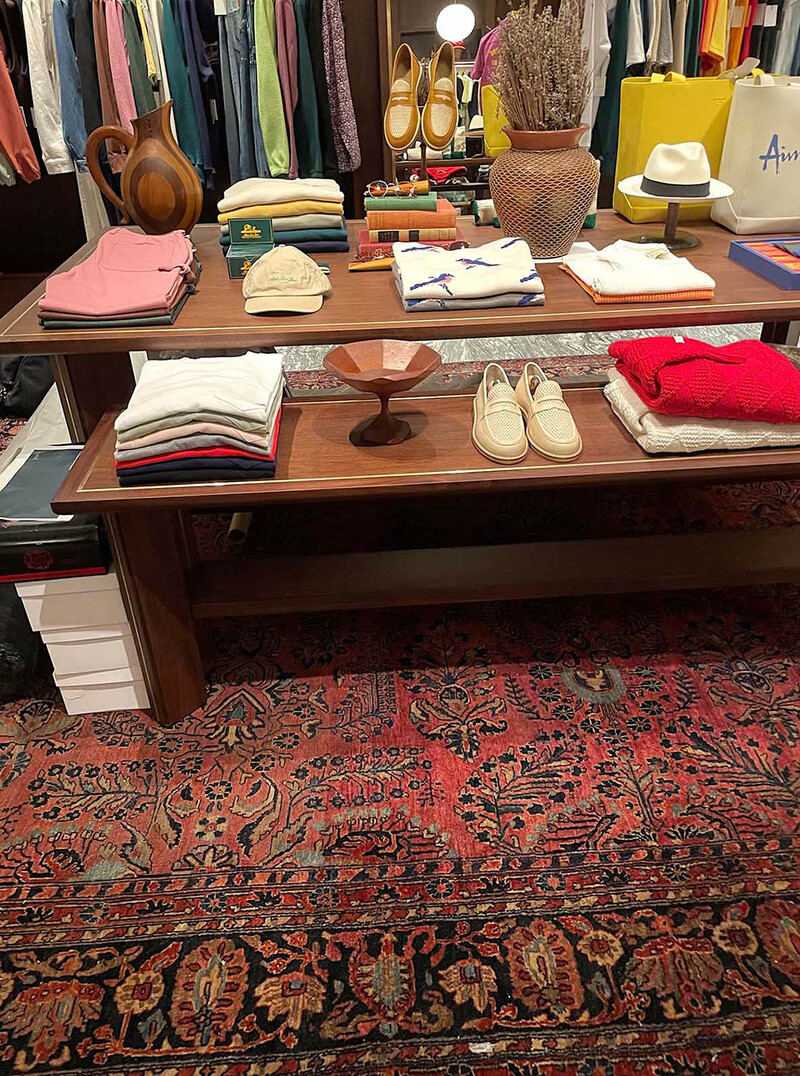 Shop Floor & VIP Lounges
Designers from Sarita Posada requested a selection of antique-style rugs to complement the dark wood panelling. LHR chose pieces boasting eye-catching designs and vibrant colours to liven up each space and incorporate an element of fun, complimenting the colourful Aimé Leon Dore clothing range in the showrooms.
In the VIP lounge, LHR installed a stunning handwoven Antique Persian Qashqai rug with deep earthy tones, perfect for this low light, clubby setting. Shoppers can unwind in this area to a wall of vinyl records, a resident DJ and a mixologist behind the bar!
The main shop floor is fashioned with a number of Antique Persian pieces, including a handmade Antique Persian Sarouk with a striking red field and beautiful palmette design.
Persian Rugs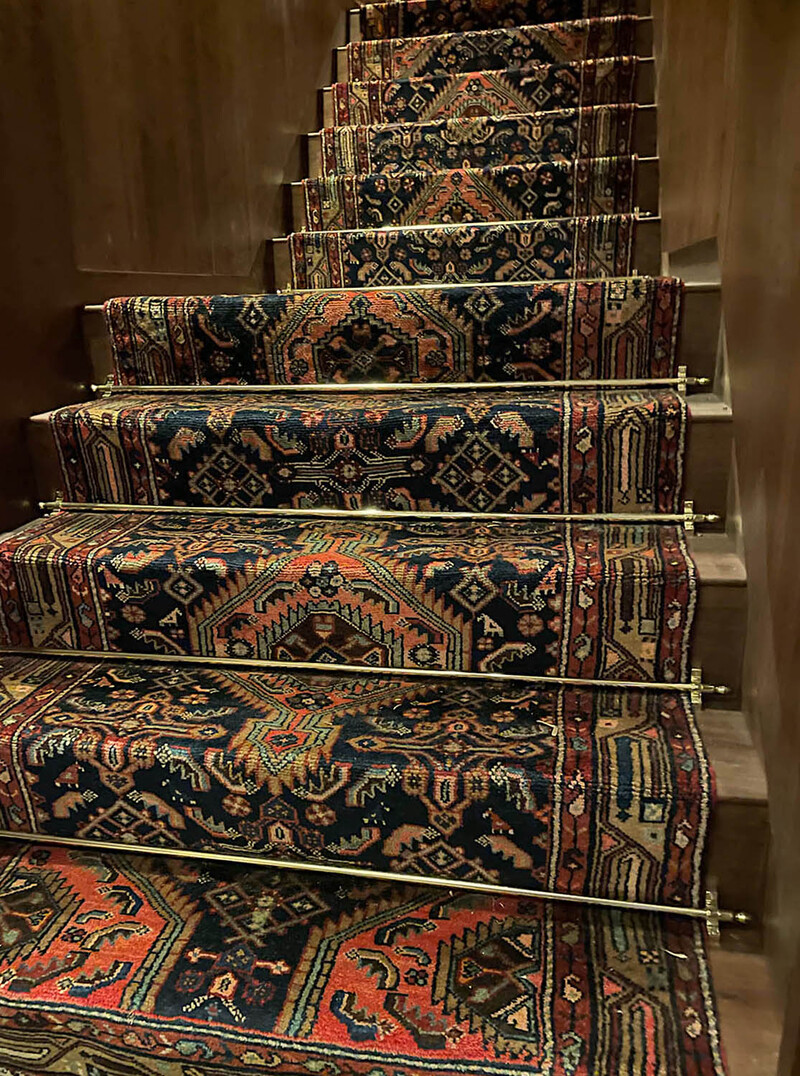 Stair Runner
As you venture up to the next level, it's impossible not to notice the bespoke runners, carefully installed by the LH team.
London House selected two similar hand-knotted Persian Hamadan stair runners and carefully adapted this fine pair, to make seamless borders between the 2 pieces. The brass rods were then put in place as the cherry on top of this now elegant stairway.
Persian Rugs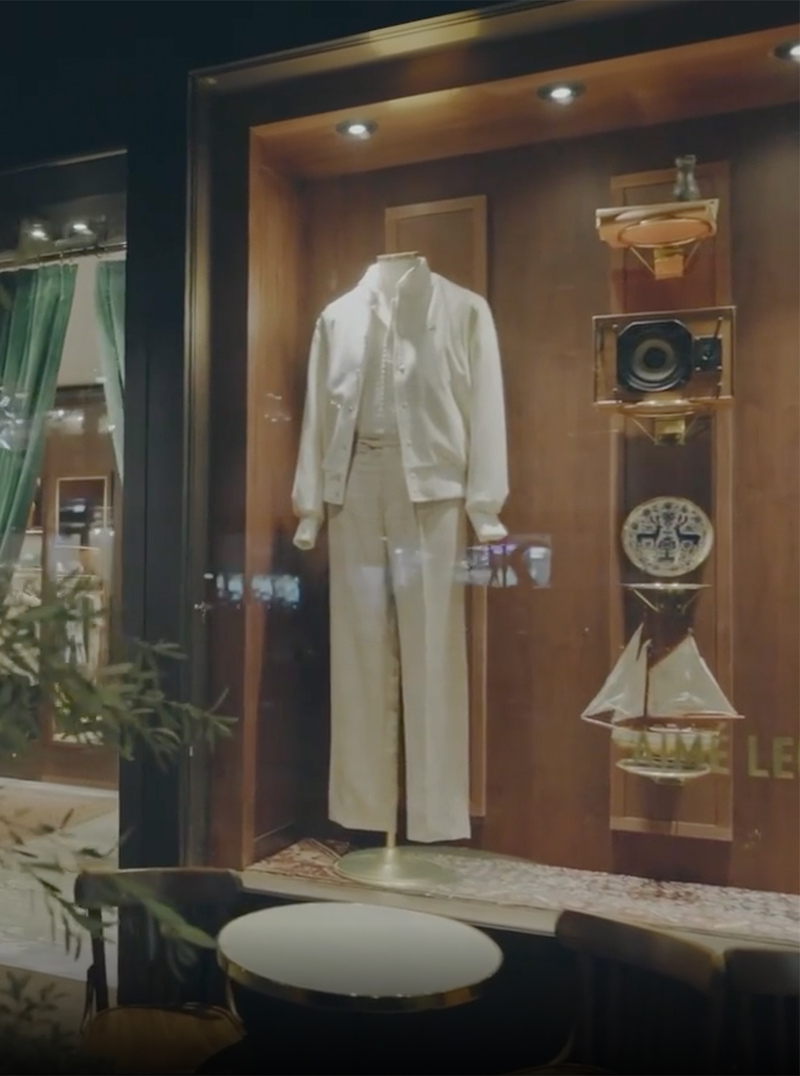 Window Displays / Fitting Rooms
With the lavish interior taking shape, Sarita Posada ensured that the vintage look was present in every detail of the London shop. This called for the installation of some smaller Antique Persian Tabriz rugs, which were cut to size and fitted to perfection within the window displays and fitting rooms.
Part of this more bespoke installation involved upholstering a platform in a Fine Antique Persian Feraghan Rug with a geometric tribal design, hand-knotted using traditional red and blue wool. LHR's alterations specialists worked their magic on this piece, beautifully aligning the patterned floral border with the platform edge, ready to elevate the shoppers' experience in the pursuit of new shoes!
Persian Rugs
If you have an interior design project on the horizon and require a rug maker and supplier with comprehensive experience in commercial and residential refurbishments, our team are ready to help bring your ideas to life.
We provide in situ viewings to view and assess all possibilities for a project. If you have something particularly niche in mind, we also offer a bespoke rug making service, from fine hand-knotted rugs through to hand tufting and natural fibre rugs.
For more information, please get in touch below or give us a call on 0208 809 2220.