Project overview
Venturing into the picturesque villages of rural Hertfordshire, London House used traditional influences and vintage options to provide a client with a number of rugs for an 18th Century Old Rectory.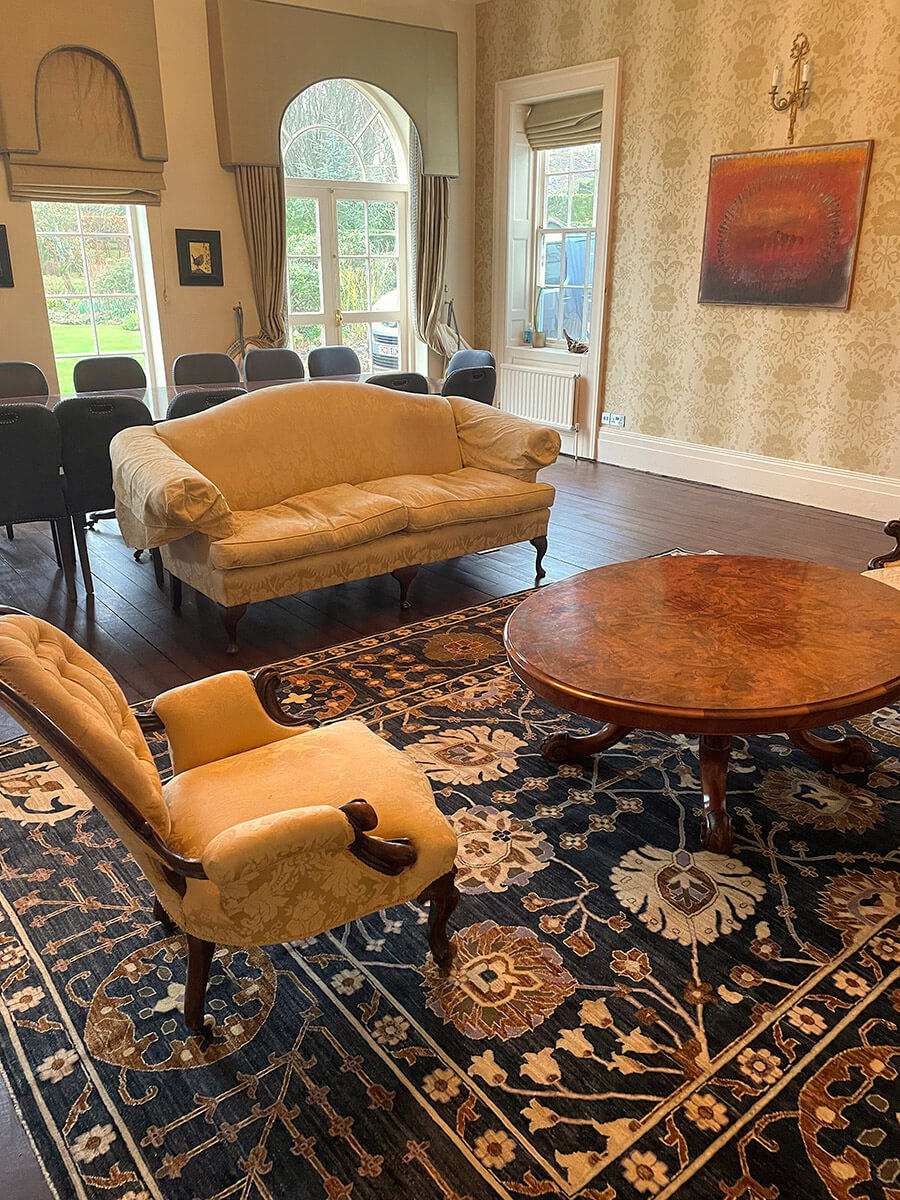 London House Rugs were asked to bring along a selection of traditional rugs that would enhance the overall design of this period property, while complementing the rich wallpaper and antique furniture.
The living room, a high ceilinged space with large bay windows has an array of original fixtures and fittings, including a dark hardwood floor. With many subtle floral patterns in the room, London House proposed an Afghan Feraghan piece, which typically has large decorative palmettes and intertwining stems in the design. The dark navy field of the Feraghan works in contrast to the light sofa and chair, while the browner sections tie in with the mahogany furniture, giving a harmonious feel to the room.
View Feraghan Rugs
Outside the Living Room, the Entrance Hall has a paired back and neutral decor. This allowed a pop of colour to be introduced into the space, making a Kazak rug a great option. Kazak's are traditional rugs; however, their tribal origins and geometric designs give them a more contemporary feel.
The second reception area is much more flamboyant, with walls covered in pink and blue vintage wallpaper from floor to ceiling. This riot of colour and the need for a complimentary rug needed careful handling!
The solution? A vintage Chinese Silk rug from the 1930's, Overdyed by London House in a single Mulberry tone, with the lustrous silk pile chiming perfectly with the rich, characterful interior.
View Chinese Rugs
If you are looking for rugs for your next renovation project or new house, we have thousands of pieces available across all styles and colours. Our team are on hand to help with any questions or to discuss your requirements, and we can even bring a number of rugs for you to try in situ! Just give us a call on 0208 809 2220 or 01937 845 123 or contact us using the form below.