Project overview
Early last year, London House Rugs were approached by Dodds & Shute to help transform the visitor centre in The Glenlivet distillery. Situated in a remote glen in Speyside (Scotland), this redevelopment would "tell the brand's story in a truly authentic way, reinvigorate the original experience, striving to give whisky lovers the best possible time whilst visiting the distillery. Linda Brown

Visitor Experience Manager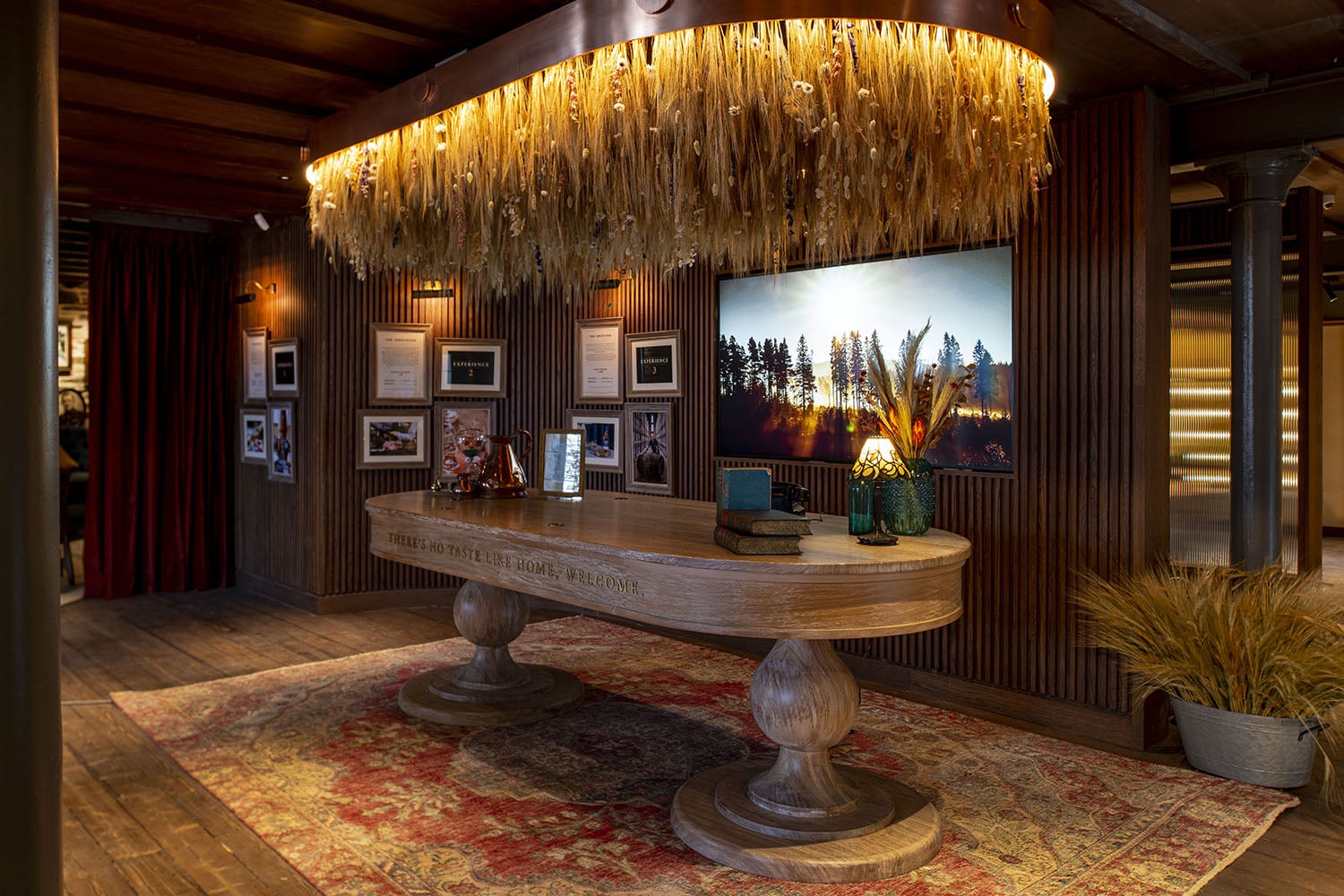 Black Sheep was the lead interior designer on the project, tasked with redesigning the visitor experience to reflect core Scottish values and traditions while retaining a timeless aesthetic.
With this in mind, London House began looking through their selection of Traditional Persian Rug designs which would capture the heritage aspect of the design brief, then furthered this concept by introducing rugs that also had a distressed finish, adding a touch of contemporariness.
After considering a number of options with Black Sheep, three beautifully handknotted Vintage Overdyed rugs were installed in The Drawing Room, each complimenting the surrounding interior perfectly whilst adding warmth to this charming lounge area.
View Vintage Overdyed Rugs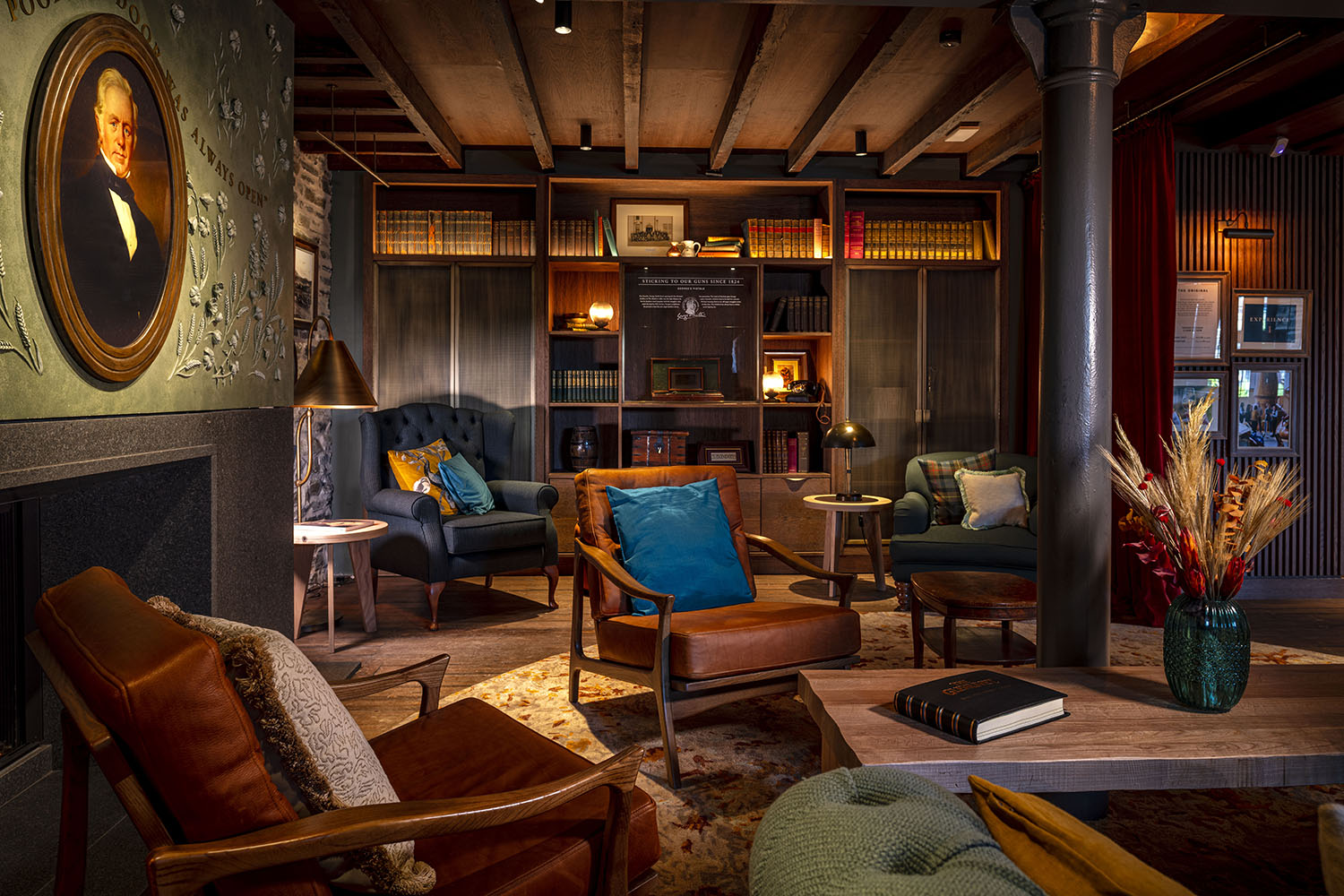 As the renovation progressed, a more specialist rug solution was required for other space areas, including two bespoke rugs, which needed to be placed in recesses on the floor.
Due to the specific sizing of these rugs, London House discussed design ideas with the team at Black Sheep and produced a number of CADs, which were skillfully hand-tufted to order.
The overall interior was inspired by the Glenlivet Estate in which the building is situated, with touches of Speyside green marble coupled with oak and Accoya wood, giving heed to the barrels used to help mature the whisky.
View Vintage Overdyed Rugs
A number of exceptionally individual components make up this space, such as
a chandelier made almost entirely from local dried flowers
a grand wall display of the distilleries rarest bottles, custom-built by Elmwood Projects
a beautifully patterned mosaic flooring, handmade by Scottish Artist Helen Miles
a decorative fireplace panel designed, produced and installed by Locker and Riley, featuring floral patterns
Several handcrafted clay pots replicated those used hundreds of years ago to smuggle Glenlivet through remote hillsides, each made by Whichford Pottery.
Throughout the renovation, the importance of incorporating the highest level of Scottish craftsmanship was at the forefront of each and every design element.
All in all, this renovation has resulted in a welcoming and luxurious space that perfectly encapsulates the history of the distillery and its founding family. With tasting rooms, a club bar and retail space that manage to soften the industrial character of the building effortlessly, you'll undoubtedly want to stay a while and have a wee dram or two!
At The Glenlivet, we believe in pushing boundaries and breaking tradition, and this is certainly represented throughout this redesign. I worked at the visitor experience when it was last refurbished 23 years ago, but this is something else! To tell the brand's story in a truly authentic way, we have reinvigorated the original experience, striving to give whisky lovers the best possible time whilst visiting the distillery. We look forward to welcoming back our loyal fans, as well as new faces. Linda Brown

Visitor Experience Manager