Project overview
Over the years, this renowned luxury retreat has undergone many exciting renovations, transforming it from an 18th-century farmhouse into a relaxing rural getaway. With works still ongoing, London House is engaging with Soho House designers and supplying another round of bespoke rugs for this fantastic commercial project.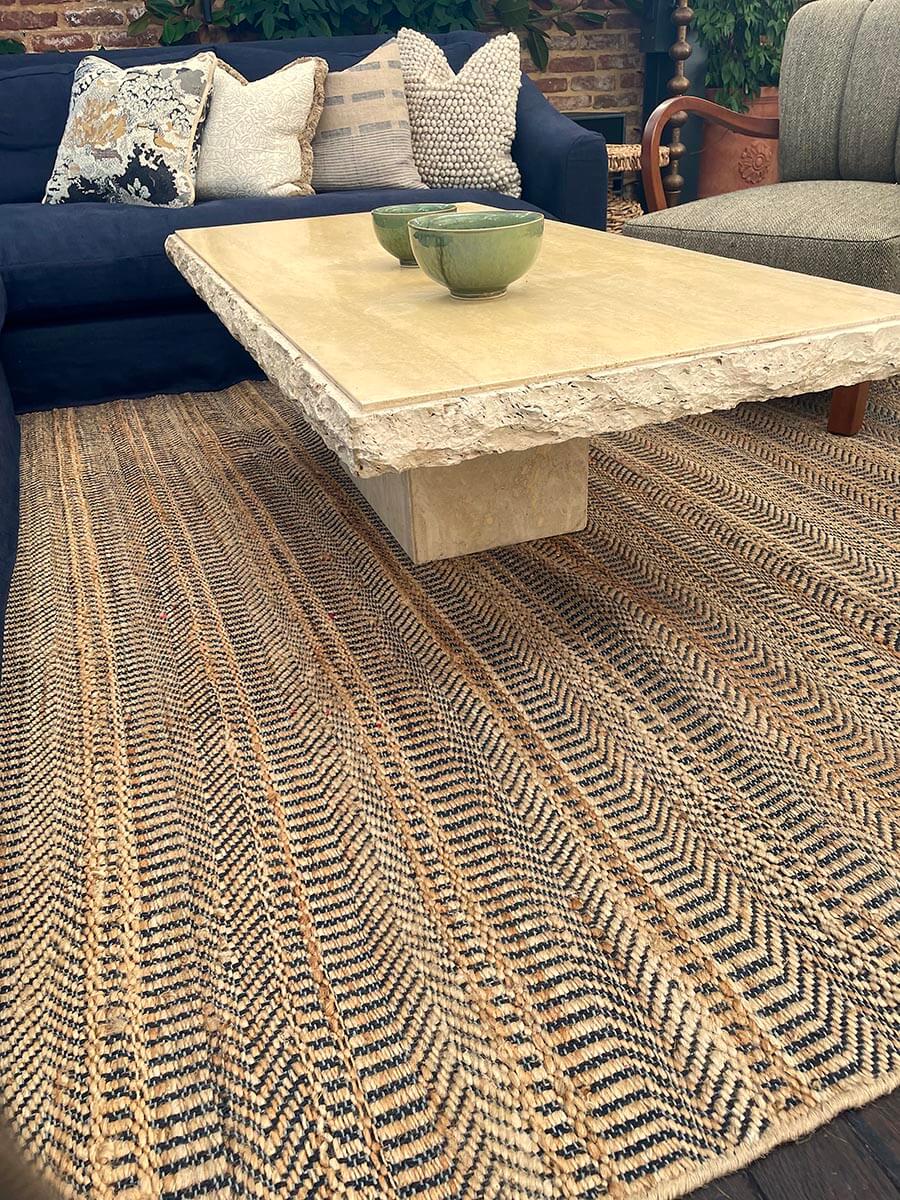 Set in rolling Cotswold country, Soho Farmhouse is a private club offering an escape from the bustling London Houses in the group, whilst being just over an hours drive from the city.
What was an old series of farm buildings in Oxfordshire, is now a sanctuary for guests to roam the fields on horseback, spend the afternoon in a secret spa, or take to 2 wheels and explore the grounds and the huge range of facilities.
The accommodation itself has an "upscale New York cabin vibe" made up of rustic elements like reclaimed timber flooring and ticking fabrics, all of which set the scene for a series of eye- catching bespoke rugs.
To complement the "Hygge" Farmhouse feel, London House produced a number of custom rugs made from Jute, a natural fibre extracted from the bark of the jute vegetable plant.
This choice of material fits in perfectly with Soho's vision to incorporate organic and sustainable materials throughout the site and strike the perfect balance between restful interiors and cutting edge design.
Bespoke Rugs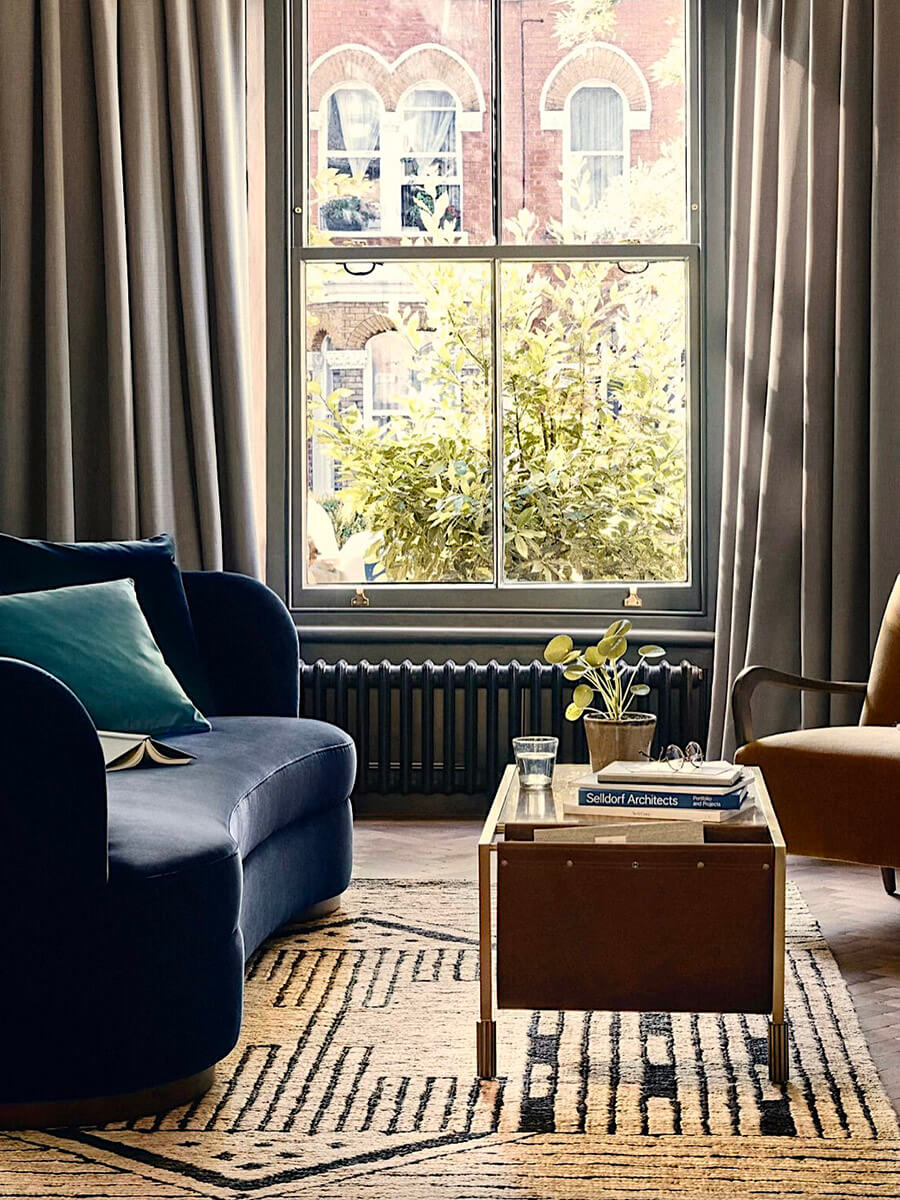 Piglet Rug
These rugs are earthy and graphic in design, featuring geometric patterns with slight Aztec influences. Although the field of the rug is a delicate, understated gold, the thick texture created from handwoven Jute makes these pieces particularly robust.
Cowshed Rug
The Cowshed reception area required a bespoke rug with a softer pile featuring an Ikat style design. The rug was designed by the in-house design team at LHR and hand made using bamboo silk, giving it a lustrous finish in tune with the luxurious Spa and treatment rooms. The linear, cross- hatched pattern on this piece adds depth to the space, giving the impression that the room is longer than it is, while the colours match the surrounding soft furnishings perfectly.
Bespoke Rugs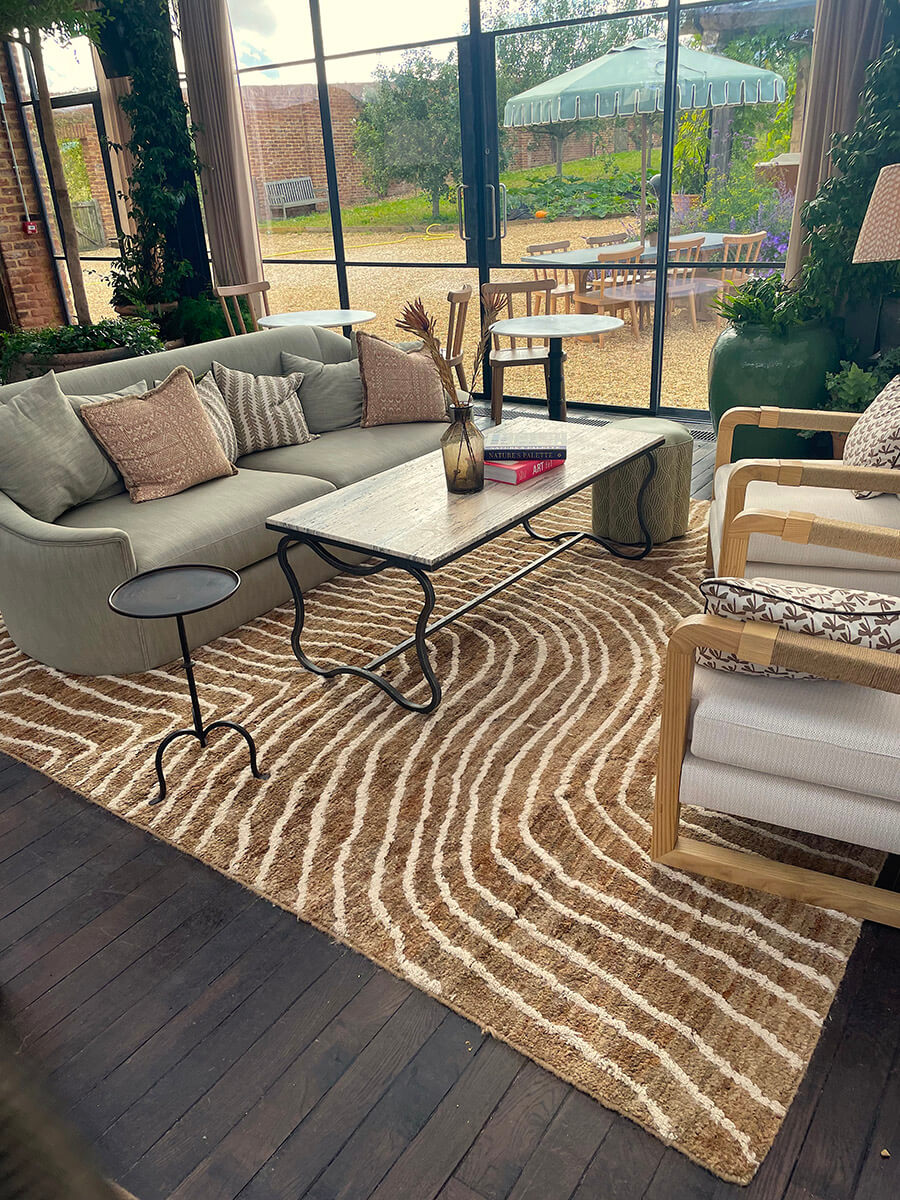 Stables Rug
Mirroring the Piglet Rugs, The Stable Rug is handwoven using Jute, which is extremely hardwearing and perfect for public areas with heavy footfall. This design features a variety of weaving patterns, alternating between chevrons and horizontal and vertical lines. The mix of fine detail and natural materials captures the design ethos across the whole of the Farm.
Barnhouse Rug
This pair of contemporary Sunpat Barnhouse rugs sit beautifully in the foyer of the Orangery. Both London House and Soho House are dedicated to being as sustainable as possible and this fibre is spun from Cactus plants, with no added chemical (and the spikes removed!)
This light filled space and the adjacent courtyard are all about the plants and the rugs enhance this inside- outside aesthetic.
Bespoke Rugs
If you have an interior design project on the horizon and require a rug maker and supplier with comprehensive experience in commercial and residential refurbishments, our team are ready to help bring your ideas to life.
We provide in situ viewings to view and assess all possibilities for a project. If you have something particularly niche in mind, we also offer a bespoke rug making service, from fine hand-knotted rugs through to hand tufting and natural fibre rugs.
For more information, please get in touch below or give us a call on 0208 809 2220.