Project overview
As the re-construction of the public areas came to fruition, London House worked with interior designers at Brady Williams to put together a collection of bespoke and off the shelf rugs inspired by Aubrey Beardsley illustrations for Salome by Oscar Wilde.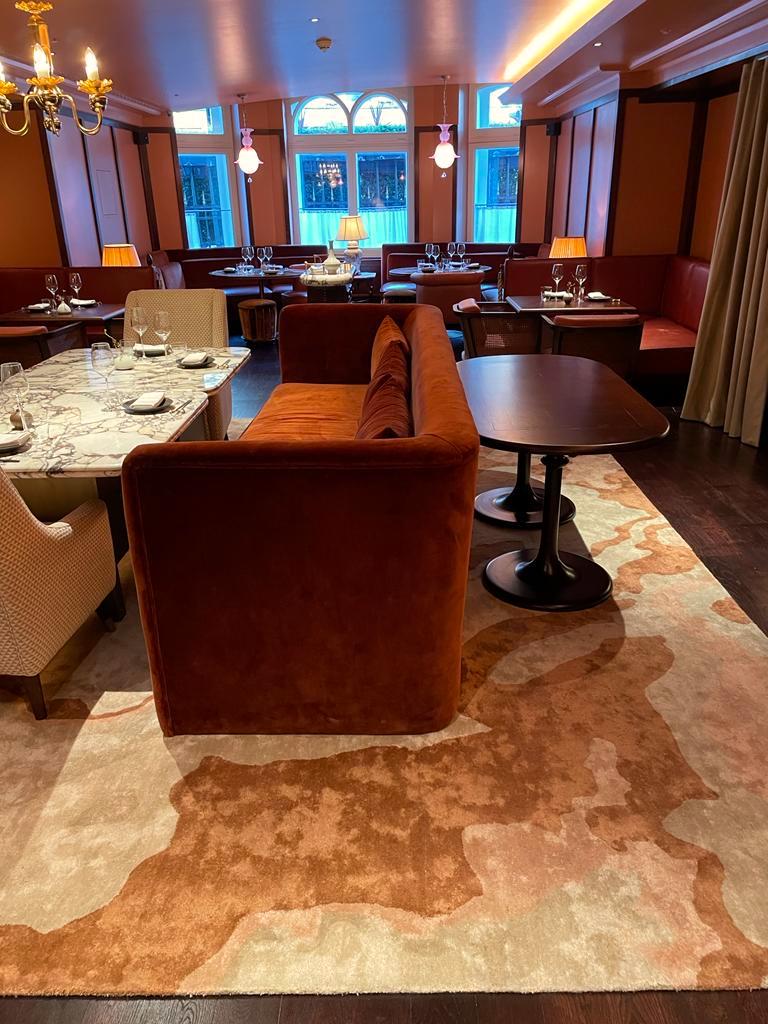 Bespoke Curio Rug
This stunning bespoke piece measures 420 x 350 c and extends throughout 'The Aubrey London,' a Japanese Izakaya (an informal bar serving drinks cocktails and appetisers). The rug elegantly unifies the design concept in the room and this reflects both the marble tabletops and the retro leather and brown velvet sofas.
This bespoke rug features a marble design with mixed salmon, brown and cream tones and has a more contemporary feel than other pieces in the space. The smooth transitions between these muted shades almost mirror the marble table surface, allowing the rug to integrate well with the rest of the decor.
Handmade entirely from bamboo silk, this bespoke rug reflects the surrounding light beautifully, giving this piece a rich and lustrous finish.
Bespoke rugs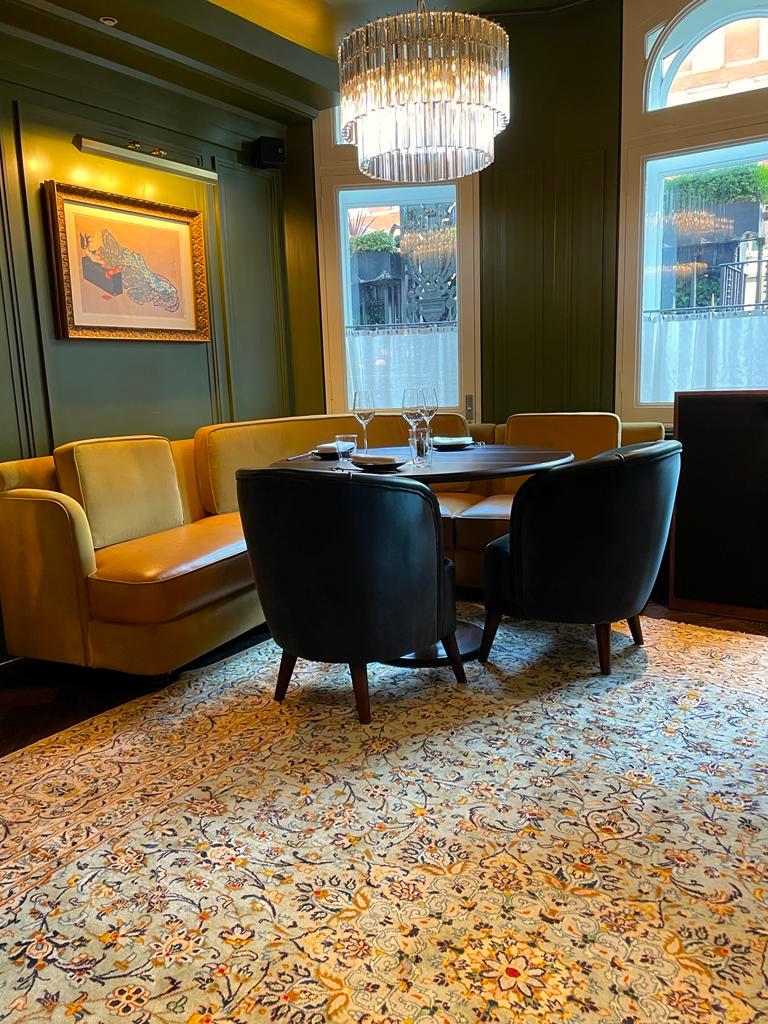 Salon Bar Lounge Rug
The Salon Bar Lounge has a subdued prohibition-era ambience with deep green panelled walls and mahogany touches. The bright leather corner sofa lifts the interior, and this pop of yellow provided the inspiration for selecting an elegant, Vintage Kashan rug.
Kashan rugs are renowned for their bold patterns, which burst from an intricate central medallion. Compiled from floral designs and vine leaves, each shape is skillfully hand knotted to create these dazzling pieces.
This Vintage Kashan has a muted cream background with a slight hint of green when in a certain light and this, combined with the golden florets and yellow leaves, complements the decor perfectly.
View Kashan Rugs
Bespoke Library Rug
With floor to ceiling bookshelves, opulent mahogany furniture and a big open fireplace, this library dining area certainly has a sense of distinction. This room required a rug large enough to fill the space with a bold, masculine design that would tie in with the rest of the decor.
Interior Designers Brady Williams provided London House with ideas for the rug which were passed onto our design team to refine CAD drawings. We adapted the balance and colour of an Aubusson design in the Directoire style of decoration (first French Empire C.1790). With production in mind, our team concluded this 530 x 430cm bespoke rug would be handmade using fine sheep's wool.
The centrepiece is made up of one distinctive square medallion in rich gold and navy colours, surrounded by vine leaves and floral heads, handmade in a lighter teal shade. The various shades of gold throughout this piece, combined with emerald green lend an air of prosperity and grandeur to this library dining area.
Bespoke rugs
If you have an interior design project on the horizon and require a rug supplier with comprehensive experience in commercial renovations, our team are ready to help bring your ideas to life. We provide in situ viewings so all possibilities can be assessed and judged in the space. If you have something particularly niche in mind, we also provide a bespoke rug making service from fine hand knotted rugs, through hand tufting to natural fibre rugs of all types.
For more information please get in touch below or give us a call on 0208 809 2220