Project overview
As we head into a new year, London House Rugs look back at some of the incredible residential design projects of 2021. From Shirvans to Feraghans, these three interiors showcase some of our finest traditional handmade rugs in classic settings.
This cosy reception area sits in a traditional Edwardian style home in Wimbledon. The pared-back off white walls and cream furniture were ready to welcome some warmth and colour, which is why we introduced this Antique Persian Mahal rug.
The history of the Mahal began in the city of Mahallat and during the 19th century when families would work together to weave these pieces using fine wool and a coarse weave. Like most Mahal rugs, this piece features a Persian red background with a small central motif surrounded by repeating floral patterns. The field of the rug is encased in a dark blue border stippled with more decorative floral designs.
These deep, rich colours on a thick piled rug are the perfect pairing when adding texture and warmth to light or minimalist spaces. Antique Mahal rugs are admired for their artistry and adored by interior designers, not only for their beauty but also for their versatility and suitability for almost any decor.
View a Mahal Carpet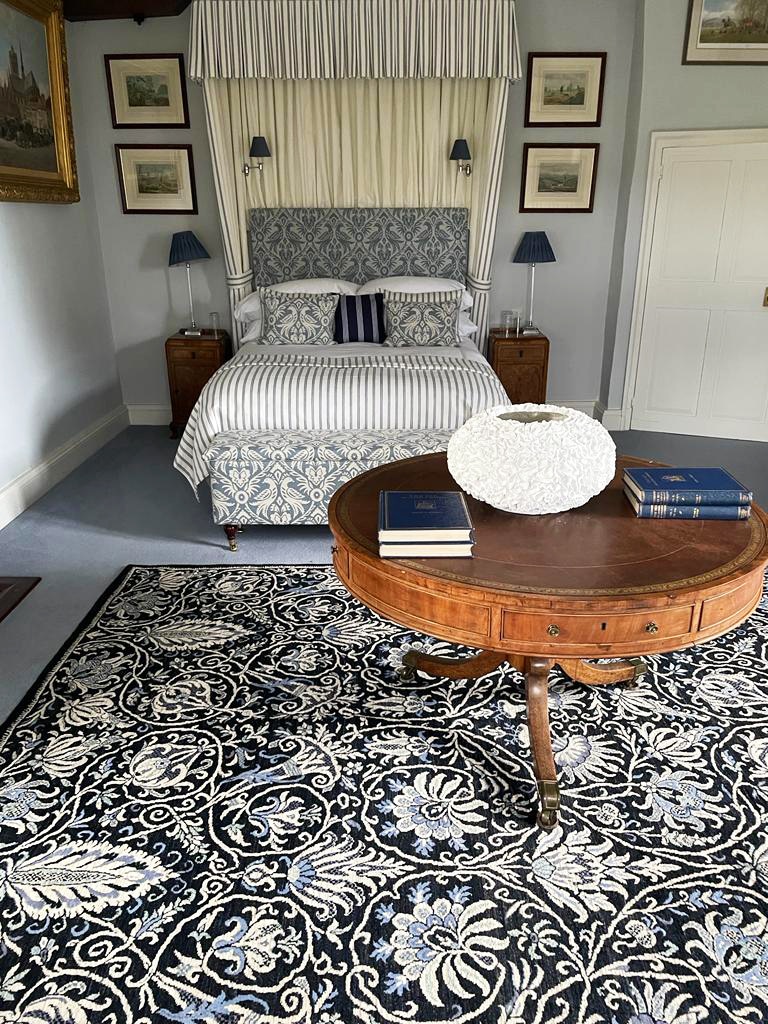 This quaint bedroom features a 1950s decor with the occasional nautical reference, evident in the striped cushions and curtains and navy blue finishes. With a bold decorative design already present in the bed head and base, a more modest rug might have been the obvious choice; however, this is a classic example of how a small pattern and a similar larger pattern can work seamlessly with one another.
The piece pictured is a Fine Afghan Feraghan rug with a typically dark background and large, simplistic floral patterns that stretch right across the rug, with no borders or motifs. These leaves and vines are hand-knotted in a contrasting cream and light blue colour, tying in beautifully with the surrounding decor.
As with many Feraghans, this rug design is inspired by its Persian counterparts dating back to the 19th century and admired for its durability with subtle patterns throughout. Handmade using fine sheep's wool and a Persian knot, this rug will last for decades to come.
View a Feraghan Rug
This vintage Kashan sits proudly in the living room of a central London Georgian townhouse and makes for a superb addition to this neutral space. With the other elements in the room having a certain subtlety with little or no pattern, this allowed for a large rug that would add more texture to the space without being overpowering.
Although Kashans are renowned for their intricate central medallions and whimsical floral shapes, the patterns are small and delicate, with spaces between each hand knotted design. This allows the plain background to show through, muting the overall appearance of a traditionally busy rug.
The varied shades of green and blue on the flower heads work seamlessly with the sofa, right down to the stipples of pink around the rug's central medallion, which matches the smaller cushions.
This particular Kashan was handmade in the mid 20th century using a symmetrical Persian knot and a cotton and wool blend, resulting in a hard-wearing, lustrous finish that feels luxurious underfoot.
View a Persian Kashan Rug
If you are looking for rugs for your next renovation project or new house, we have thousands of pieces available across all styles and colours. Our team are on hand to help with any questions or to discuss your requirements, just give us a call on 0208 809 2220 or 01937 845 123 or contacts us using the form below.