Project overview
In this timeless corner of Kent, sits a picturesque Oast house with a unique kitchen dining table. London House provided a home viewing to help find a quintessential kilim rug for the charming open plan dining area.
When you first walk into this space, the exposed beams, brickwork and double height ceiling certainly catch the eye. but amongst all the distressed furniture and wicker baskets, one particular piece really stands out.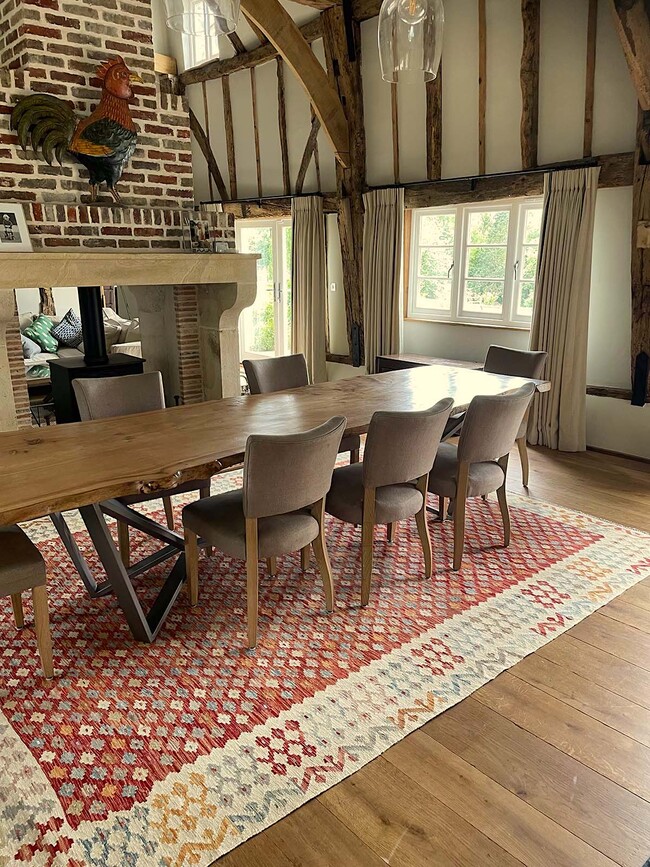 This 10-foot long dining table was hand-carved from a local Sevenoaks Oak, so it only seemed natural that two handmade pieces should stand together, creating this incredible space where family and friends can come together.
In keeping with the i country barn interior, London House presented several Traditional Kilim rug options which have little or no pile, giving them a natural, paired back feel. These flat weave rugs come in sizes as large as 500cm, making them an excellent choice for placing under dining tables, especially considering the additional margins required for the regular shuffling of chairs.
Traditional Kilim Rugs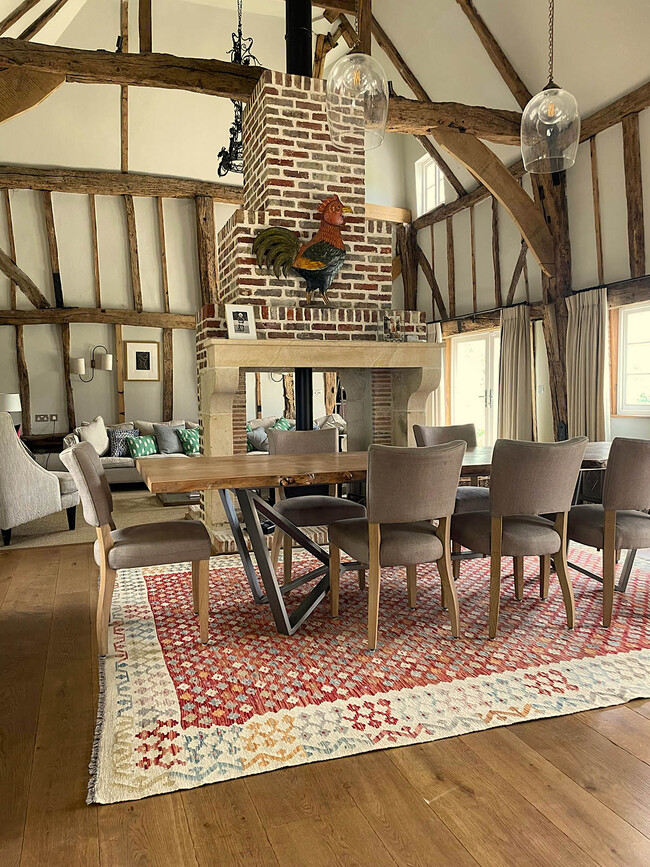 Kilim rugs are handwoven from fine wool, which makes them highly durable and, again, a good choice for high traffic areas. Still, the real beauty of these traditional kilim rugs is in their design, featuring a combination of bold geometric patterns and bright colours.
Many Traditional Kilims take influence from their Persian roots, showcasing vibrant reds and blues. In this particular setting, the rugs' central field coordinates with the exposed brick wall while the border matches the living room's cream furniture.
If you're worried about spillages on a dining room rug, kilims are easy to clean and generally don't show minor stains easily. They're also a more cost-effective option if you require a larger rug, and if you're concerned about the thin pile on a hard floor, LHR has a specialist underlay, keeping the kilim in place and making it soft underfoot.
Traditional Kilim Rugs
Looking for rugs for your next renovation project or new house? We have thousands of pieces available across all styles and colours. Our team are on hand to help with any questions or to discuss your requirements, and we can even bring a number of rugs for you to try in situ! Just give us a call on 0208 809 2220 or 01937 845 123 or contact us here.